Check out this sexy beast!
This is actually the fifth hole drilling instrument in my house

The others being a micro drill press I bought 20+ years ago to make PCBs. A magnum hole shooter which seemed like a good idea at the time---I actually forget the reason

. A battery powered Makita that ffj gave to me. And a brace+auger.
I bought this one because I need "more perpendicular and more bigger" for my next project. However, with this I can get rid of the hole shooter and the proxxon micro press. Anyone interested?
My tool/work style preference is for function over form and when I saw this one I couldn't resist. There's no plastic on this; the functionality of every single part(*) is understandable to me. It comes apart in obvious ways---no cleverly hidden screws, etc.---and I think a machinist should be capable of replacing each and every part.
(*) So the top hole in the front protrusion on the head, below the pulley, ... what's that for? There's a bolt going through the one below it.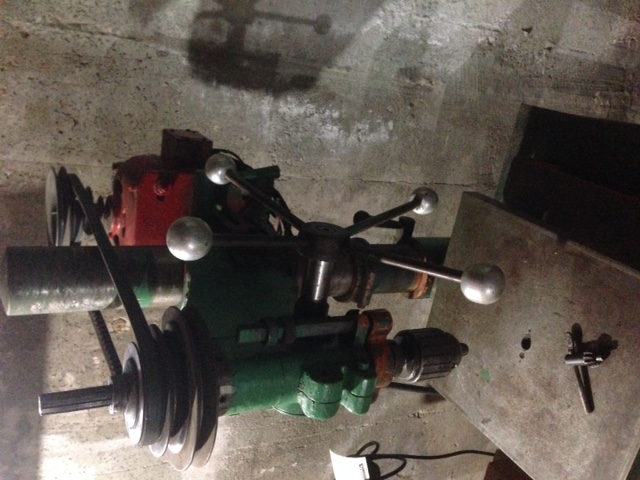 I had some issues with leveling the table. Ostensibly the table is held level by the friction between the circular plates on the left when you turn the knob with your hand(**), except there's not enough friction. What I did was to buy a 1/16" rubber sheet ($4) and cut out a gasket with some scissors. This does have some give (potentially causing some runout?!), but at least the table won't be at 88 degrees because I accidentally knocked it. Still, this is obviously not the right way to do it.
(**) It does have a hole where a rod can be inserted for leverage, but given how the handle is knurled, I don't think that's the point! Also the hole doesn't go all the way through.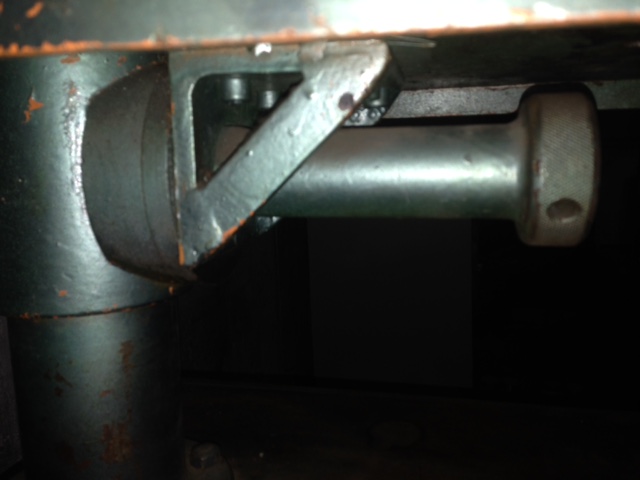 Anyway, I leveled the table using the handle from a paint can and a bit of applied geometry. The bent wire describes a circle which describes a plane. It's then easy to spin the chuck by hand after lowering it and locking it until it barely touches the table all the way around.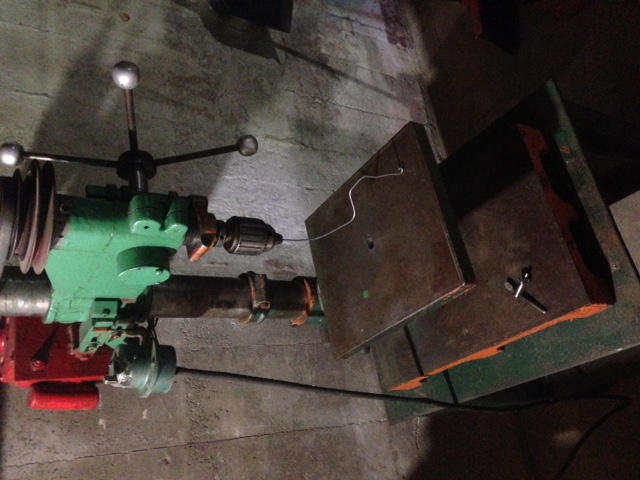 I have no idea what brand it is. (I think the label sat under the pulley on the head) Does anyone know? I can tell that the forward/off/reverse switch was made by the Furnas Electric Co in Batavia, IL and the motor (can't tell the brand) was made in Kalamazoo, MI. I suspect, the entire thing was made around here. The table is a handyman special of welded pipes. I estimate the DP itself weighs about 100lbs and the table weighs about 80lbs.
Also, I believe the original color was orange, then green, then red. Owner must have liked traffic lights.