I've been thinking about L5 the past few days. I was struggling with conceptualizing L6 solidly, and finally took that as a sign that I'm not ready - I'm consciously incompetent at it, because every time I try to explain it to myself, I find myself contradicting myself and not really understanding why. I took that, and noticing recently some probably pretty rookie shit going on in my expenses game, as a sign that I needed to step back from L6.
So I turned my attention to L5, and immediately felt like I was having a "meatier" experience working with the concepts. I also found some myself pulling in concepts from other fields, which I took as an encouraging sign.
Skippable Preamble
I've read the Wheaton Scale thread and the Yields and Flows threads a number of times by now. Some standout points: the Wheaton ERE scale is not intended as a "lesson plan" or a set of incremental instructions. It is intended as a tool to be able to approximately locate people where they are at in terms of Focus (the most salient column) or mindset, so that others can gauge at what level to communicate with that person. It is not intended as a "this is the way to ERE mastery" road map, necessarily.
It's also not intended as a karate belt system. The analogy that suits best is that of swordmasters: the clues and indices of one's mastery of swordcraft can be subtle and counter-intuitive, and it is not straightforward to categorize individuals (especially as more advanced swordsmasters delve in to behaviors that seem to break the "rules" of beginner/intermediate practice).
Also, I'm developing understanding as I work through this stuff, so I'm mostly just parroting things people said in those threads in my own words. I'm probably still using the table incorrectly.
Focus
Okay, the guiding statement of what distinguishes an L5 individual is that they are focused on "Pareto optimization of expenses for maximum life enjoyment".
From
a web-of-goals perspective,
an L5 is focused on financial optimization of nodes (whereas L6 is focused on yields/flows of non-financial assets, and L7 is focused on a consilient overall web structure).
I actually misunderstood "nodes" for a while, because I was getting "nodes" and "effects/goals" confused. At one point I had listed "shelter", "Transportation", "Adventure", "social" as nodes. But I think that's wrong. "Nodes" are "specific sets of actions", from the book. "Adventure" isn't an action, adventure is an *effect* of a specific set of actions (e.g. climbing up the side of a mountain). And in ERE slang, effect=goal.
So, "climbing" is a node/module with an effect/goal of "adventure", also "health", also "social", as is "owning my truck" (effect/goal = transportation, also adventure, also shelter), "Owning Serenity" (effect/goal=shelter, adventure, minimalism), etc. However, I think diving deep in to those effects/goals, or rather being focused on them, is starting to stray in to L6 territory. Which I might be getting wrong. I'll leave that alone for now.
The main point is that L5 is still quite focused on financial optimization - how much money is flowing in to and out of the nodes of one's life.
Breaking down the focus statement
Pareto Optimization.
I'm no economist, so my understanding of Pareto optimization comes from spending an hour with the wikipedia article. The gist is:
wikipedia wrote:Pareto efficiency or Pareto optimality is a situation where no individual or preference criterion can be better off without making at least one individual or preference criterion worse off.
I initially got hung up on the definition of pareto efficiency as "a new situation where some agents will gain, and no agents will lose", paired with the criticism of the principle as limited in that it did not address whole-society welfare or equality, which I thought might be thought of as the overall goals of my self. Because the "nodes" being optimized aren't agents - they're specific behaviors or sets of actions that, together, form the gestalt of "what I do, and thus what I get, out of life" -- it seemed like Pareto efficiency wasn't the right model to use in lifestyle design.
But I dug a little deeper, and between focusing on optimizing "preference criterion" and "multi-objective optimization", it's back to making sense. This definition in particular:
wikipedia wrote:A solution is called nondominated, Pareto optimal, Pareto efficient or noninferior, if none of the objective functions can be improved in value without degrading some of the other objective values.

Without additional subjective preference information, all Pareto optimal solutions are considered equally good. Researchers study multi-objective optimization problems from different viewpoints and, thus, there exist different solution philosophies and goals when setting and solving them. The goal may be to find a representative set of Pareto optimal solutions, and/or quantify the trade-offs in satisfying the different objectives, and/or finding a single solution that satisfies the subjective preferences of a human decision maker (DM).
In short, Pareto Optimization as applied in engineering fields (aka to a single product, process, or system, that has some set of objectives) rather than economics (aka optimizing resource allocation to 'agents'/citizens) makes sense to me.
I found comfort in the statement that "...there usually exist multiple Pareto optimal solutions for multi-objective optimization problems", I think called a "Pareto Front" or "Pareto Frontier". The article discusses using numerical methods to identify the Pareto Front, and then handing that set of solutions of to a human decision-maker for subjective selection processes. The comfort comes from the notion that for any set of objective values, there might exist multiple equally-good solutions. Perhaps a potential lifestyle approach to a Pareto Front is to move between different Pareto-optimal lifestyle designs, purely for the novelty of it.
So -
Pareto Optimization is a process of making as financially efficient as possible some set of actions that result in some desired output
(life enjoyment, but we're getting ahead of ourselves here).
Expenses:
At L5, this means simply the expense of actual money. Time has to be a factor in L5 thinking as well, even though it's not explicitly called out in the table. So I'm going to include "the expense of money and/or time" in this word.
Maximum life enjoyment:
Okay, this is obviously a huge huge concept. What is enjoyment? happiness? Fulfillment? Joy? A life worth living? It's an easy mistake to see the word "enjoyment" and think only "okay I'm going to do stuff that makes me happy". Probably not the best first step actually! So let's just say that for now:
Life Enjoyment = Feeling Good - Feeling Bad.
This is similar in form to Net Worth = Income - Expenses, and so, since this is frugality central, we all understand the power of lowering expenses vs. increasing income. It's the same in designed an off-grid electric system: you start with decreasing demand, and then design the solar panels and batteries.
So the first step in maximizing life enjoyment should be minimizing the genesis of "Feeling Bad" in your life. AE technically has a lot of options in his life right now, but seeking professional help for depression is the low-hanging fruit in his Life Enjoyment equation. The 'Feeling Bad' value is so high that spending any (non-existent because depression) energy on "Feeling Good" is totally wasted. (Rooting for you AE!)
An exercise I've done yearly is to do a "Pareto Analysis" on my past year, and by that I mean an 80/20 analysis. What 20% of activities caused 80% of my frustration/anger/sadness/irritation/stress/Feeling Bad? Make a list of those activities, and seek to remove/mitigation those sources of bad feeling for the next year. Some examples from past year: Time spent with [person]; every hour of work spent after 8 hours; looking at my phone shortly after waking up; every drink after 2 drinks; every hour sitting after 2/day; every second spent in traffic after second zero; etc.
The other way to reduce Feeling Bad is the stoic concept of apathia, better understood to modern readers as equanimity. Steadfastness in the face of adverse circumstances; resoluteness; grit; calmness no matter what; the ability to observe 'negative' circumstances almost as an observer; internalization of the phrase "nothing is good nor bad, but thinking makes it so".
I think "health" goes here. Preventative maintenance in terms of physical health. It also belongs in Feeling Good, though, which I suppose just underscores how important it is to life enjoyment.
I also think "risk management" belongs here, as it is the pro-active form of eliminating Feeling Bad. Implementing behaviors and systems in your life that reduce your exposure to risk of significant consequence is going to a) reduce your time spent in adverse circumstances, obviously, but also b) reduce your time spent *worrying* about spending time in adverse circumstances. I submit as evidence all the threads here around March-ish of everyone being like "COVID, yeah, shitty, but my life hasn't changed that much, my NW is still fine, I'm basically good" while the rest of the world are facing having to sell low just to cover expenses, seeing their retirements wiped out, evictions, job loss, etc etc.
If overall life enjoyment is the average over time of current subjective psychological state, then taking steps to reduce time spent Feeling Bad is going to bump the average up.
Until the low-hanging fruit of Feeling Bad are plucked, I feel it's not even worth it to spend too much time on Feeling Good. But once done....
Feeling Good is a tough nut to crack. I'm thinking of research done on helping others, feeling a sense of Purpose and positive movement/momentum towards that purpose, the importance of appropriate social interactions/relationships, feeling loved and seen, being well regarded, creative self-expression, health (physical and mental), the pursuit of a spiritual path, devotion to something grander than one's self, etc.
Health and risk management both belong here, the flip side of the coin from Feeling Bad, I think. Endorphins, the feeling of looking good with your shirt off, the satisfaction of being able to lift heavy stuff/kids/grandkids, the pleasure of accomplishing arbitrary but difficult things (lifting weights, sports competitions, hitting PRs). The flip side of risk management might be better termed "exposure to opportunities and serendipity". In Feeling Bad, you cap your downsides. In Feeling Good, you maximize your potential upsides. Then wait.
Okay, so coming back to the statement "Pareto Optimization of expenses for maximum life enjoyment", and if we add the "nodes" language in there, I think we can say "Pareto-optimizing nodes with respect to expenses for maximum life enjoyment", what we're saying is something like this:
My focus is how to pay as little actual money as possible for as much Life Enjoyment as I can get out of it. Some no-brainer steps are to stop doing things that make me Feel Bad, but also I'm pretty focused on doing the things I like for as little money as possible. If someone says "hey wanna hang out? We should catch up! Let's go to that new restaurant." I'm going to think/say something like "Bro! I super want to catch up. I actually have been meaning to try this new recipe and test out my new homebrew batch, whaddaya say you come over and we'll cook and drink and play frisbee or some shit?"
A decision tree might look something like this: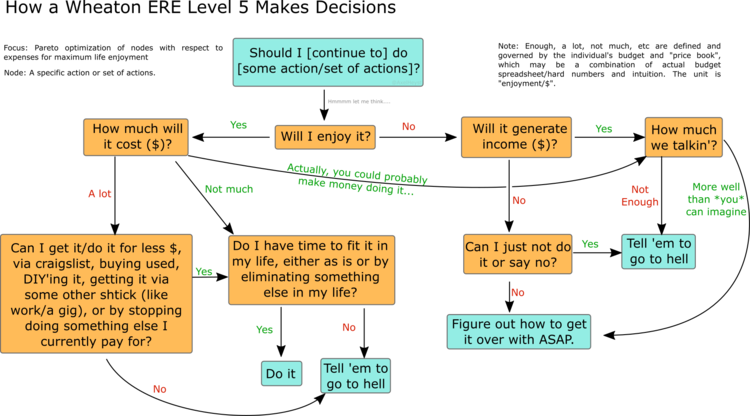 The Trap
The Trap is where "maximize life enjoyment" and "achieve FI" become conflated, and all decisions are evaluated on whether or not they will help the individual reach FI sooner or later. If someone hates their job, and sees the only solution as "not working the job", then FI becomes the sole promise of life enjoyment, and thus all actions and decisions are based not on a nuanced understanding of life enjoyment, but rather on the simplistic aim of "hitting FI".
Stories of people hitting FI and then going "oh, wait, I have ZERO clue what to actually do with my life", and maybe becoming hypercompetitive PF/FI bloggers and then burning out hardcore, is a great example of The Trap.
So this is where I bring up a topic near and dear to my heart:
Dirtbags.
Dirtbags, I submit, are Wheaton L5 to the core. Often more so than many sophisticated PF investors with half a mill+ to their NW.
The definition of a dirtbag is someone who is willing to forgo standard "necessities" / luxuries / comforts / norms in order to pursue that which they really want to spend time doing. Dirtbags, in other words, are crystal fucking clear on what "maximize life enjoyment" looks and means to them. Hours spent on the sharp end; miles of river paddled; days on the trail; number of nights sleeping under the stars; days spent perma/slowtraveling; whatever their specific jam is, the dirtbag knows exactly what it is they want.
And, they know exactly what it is they're willing to give up. Normal careers, the accumulation of material goods, the consumption of First Class commodities, hygiene norms, - it's all a very easy decision.
Frugality is a core ethic in dirtbag culture, practically an art form. And here's why it's L5 AF: most dirtbags will be able to relate their expenses to their life enjoyment with extreme precision. If they can live on $10/day vs. $20/day, that means their stash will last them *twice as many days* until they have to go scrape up some more cash. Ten dollars spent isn't ten dollars, it's a whole fucking day *not* spent on the crag, in the backcountry, on the river. If they can stretch their climbing season to the winter, then get a job as a liftie and get a free season pass, they can ski all winter while stashing enough to make it straight through another climbing season once the snow melts...
There are many varieties and flavors to the dirtbag, of course. I've just described the "standard" dirtbag. There are dirtbag rich, who maybe had a career and saved up a more sizeable FU stash, or simply have some means of making money somewhat efficiently. I fall under this category. That's not really important right now.
Dirtbags are simply L5 semi-ERE'rs with an exquisitely defined vision of life enjoyment.
In Summary
I think where I'm going with this is that dirtbaggery can provide a model for thinking about ERE, specifically the adoption of a clear vision of what life enjoyment looks like, and avoiding The Trap of equating FI with life enjoyment. I'm not saying that dirtbaggery or even semiERE is the right choice for everyone, rather, I think just about anyone already interested in ERE/FIRE can glean some value from considering the dirtbag lifestyle.
This was a useful exercise for me to run through. Feedback highly welcome, in particular if I've misunderstood anything here. Does that decision tree look legit? Have I missed anything critical?