Nice to meet all of you!
My name is Singvestor, I am a 33 year old European guy living in Singapore. After some mad years I have been slowly awaking to the reality of my finances and it has been becoming increasingly clear: I want to be FI.
I have not admitted this to anyone before and I hope to find some good feedback and likeminded people here.
My journey so far is quite embarassing, but I want to be brutally honest.
Yearly development
of income, savings and taxes

Note: All figures are in SGD. 1 SGD = 0.75 USD.
And this is how I pissed away a quarter of a million Singapore dollars in the first five years of working.
After graduating I earned an okay salary but spent it all immediately and lived recklessly paycheck to paycheck. I had very little expenses but was struggling very much to getting used to working.
Flying to Europe over the long weekend? Why not! New DSLR? Why not? 300 Singapore dollars for a night of partying? Why not!
I wish I could punch younger self in the face.
Between 2009-mid 2011 I lost quite a bit of grip on my life, dating a very difficult person while at the same time travelling for business like a mad man.
Born as an introvert I had to adapt to being highly sociable, leading a small team, travelling all across Asia, meeting new people all the time. I powered through but after a whole day of full-on social interaction with people from various cultures I was exhausted. I had started drinking quite a lot to relax in the evenings and I had gained about 10kg since graduation. Waking up somewhere in China in a hotel room with beer cans on the floor, this type of stuff.
I present you my "table of shame"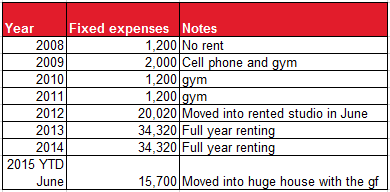 As you can see I had no expenses (living rent-free) and still spent all the money.
The awaking begins with some first clueless steps
Somewhere in mid 2012, I realized what had happened to me the last few years. I was fat (1.79m, 82kg) had nothing to show for 4 years of working. I had no goals, but decided to get back in shape, limit beer consumption and not live paycheck to paycheck. I moved into my own appartment which is expensive as hell in Singapore and stopped spending money aimlessly.
Early 2013, I finally made a plan and rediscovered my deep love for Excel and graphs.
I decided to save SGD 100,000
which seemed like an impossibly high number at this time.
Clueless about investing I opened an online trading account and bought some shares of companies that I found promising. And had a very messy portfolio by end-2013.
Life changer: Discovering FI
End of 2013 marks a big change in my life when I finally discovered proper financial planning. It all came at once: Mr Moneymoustache, ERE, Bogleheads, A Random Walk Down Wallstreet and especially Your Money or Your Life.
I was intrigued. I started using taxis less, biked to the train station, lost the excess weight and replaced some silly expenses (SGD 1,200 / year gym) with cheaper alternatives (SGD 5 per entry gym)
Needless to say I was very pissed at younger self. Living in a low tax country with no capital gains or dividend taxes and wasting all my money. What an idiot I was.
I created a new target allocation: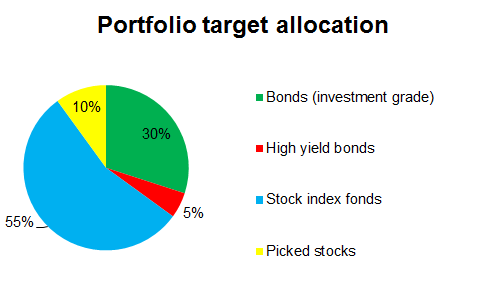 and moved money into index funds.
It was a painful journey, but slowly the portfolio is growing.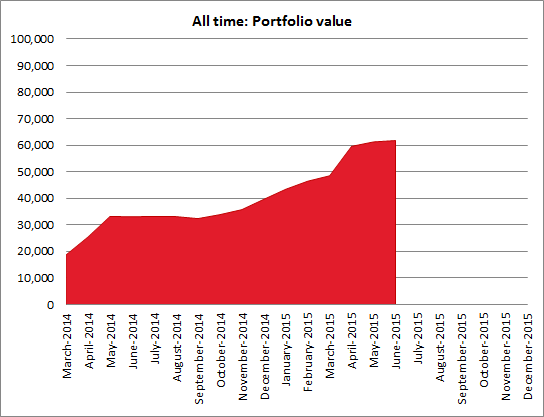 After trucking along in 2014 and the first half of 2015 I realized that I am not badass enough. I discovered the relationship of saving-rate and speed to retirement.
I realized I need to be a lot more badass
to get out of the corporate 9-5.
And so it begins! Let's get this journal started!