Here's our system. This is the backwall of our kitchen. I don't think it takes up much space.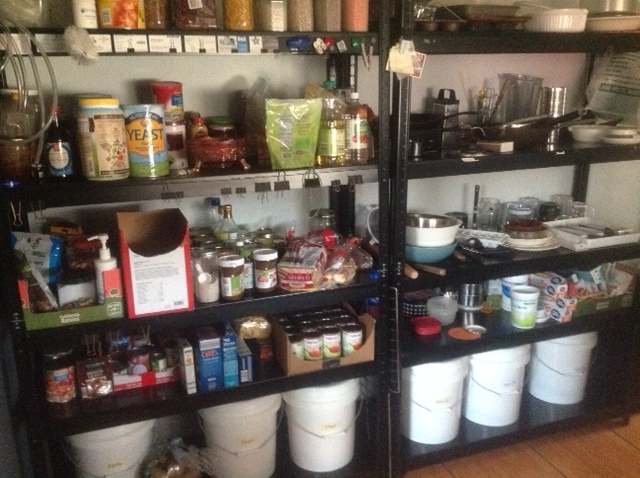 There are six white buckets of staples (black beans, pinto beans, rice, sushi rice, flour, and sugar) which form the foundation of all our cooking/baking. There are cans (mostly tomatoes) on the next shelves. One shelf has various sundries+other (e.g. jars of pickles, mustard, olives, oil ...). On the top shelf is a collection of more rarely used beans/pulses.
We have what we normally use (just more of it = buffer) and can cook anything we normal cook out of it.
From what I've seen, many people don't have much of anything at all (shelves are empty) or their shelves will be full of crazy stuff that just sits there and never gets eaten, e.g. bizarre spice collections, biscuit or gravy mixes, pickled onions, powdered mashed potatoes, canned coconut milk, etc. stuff that you can't really make a full meal out of. Most rely on what's in their fridge + going shopping every other day. If they do stock up, they buy "special foods" like MREs (expensive) or some other strange stuff they'd otherwise never eat (canned hamburger?) leading to waste when it expires and gets thrown out.
That's where getting into the habit of having a buffer (instead of a stock that just sits in a closet) and being able to turn it into edible meals comes in as a "hard skill".
Some math: Each bucket holds up to 35 lbs. Staples have about 1500kcal/lbs dry weight. Thus, one person needs to eat 1 pound per day to maintain weight or 2 pounds to do physical work. This means that as long as the sum total of the content of all the buckets is over 2 full ones, two people have a month of sitting around... over 4 is two people for two months. Add all the other food as well (freezer and other shelves) and we should be able to go 60+ days. We just fill the buckets up whenever they go low/contents are on sale.